Welcome to the class page for Nursery
If parents or carers wish to request a change to their child's current nursery hours from 15 hours to 30, a formal request needs to be made by sending an email to nursery@thorpe.leeds.sch.uk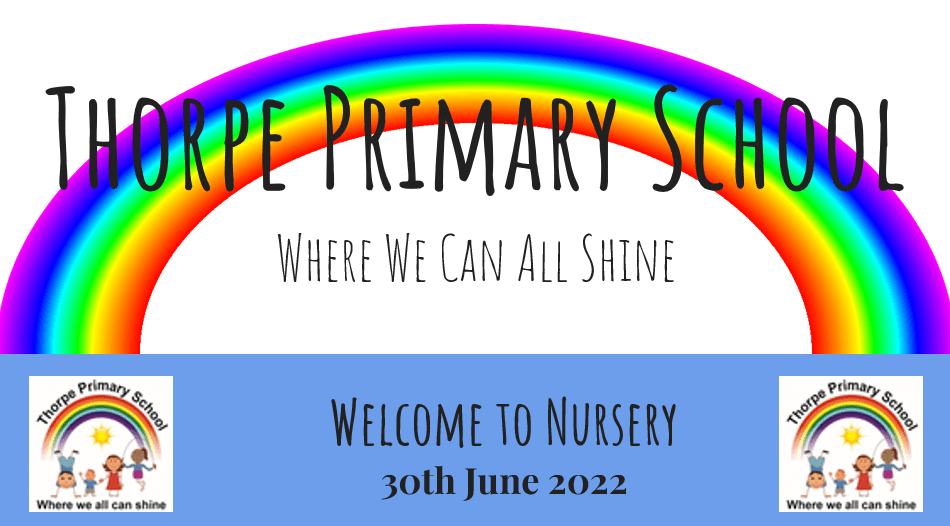 At Thorpe Primary school, we are proud to offer a stimulating, engaging and caring nursery environment for the children to begin their education.
Through thoughtful planning, we offer the children opportunities to explore, discover and learn through indoor and outdoor provision. Our ultimate goal is for children to thrive and develop a lifelong love of learning so they are prepared for the next stage of their education.
We aim to create an environment that feels safe and to build trusting relationships; this is done through parent partnerships and planning based on the children's needs and interests, as well as putting the child's voice at the heart of what we do.
We want the children to feel confident to develop their own skills, build independence and resilience and understand how to respect the world around us.
As passionate professionals, we support

children by providing rich learning experiences, extending their learning and capturing magical moments.
A PE specialist attends on a Tuesday and Thursday to provide 'Kidnetics' for the children. We do not require children to attend school in a PE kit as we only take our shoes and socks off! Please practise this skill at home to help your child be as independent as possible!
Please remember to bring raincoats, wellies and other suitable items of clothing for the different weathers, thank you.
Please remember sign up to your child's tapestry account! Thank you!