23 November 2020
Newsletter
Please click here to see this week's newsletter.
Flu Vaccine
If you missed the Flu Vaccine at school this week, it is still possible to get them immunised at at clinics across Leeds, please click on the table below to see the full list of dates and venues.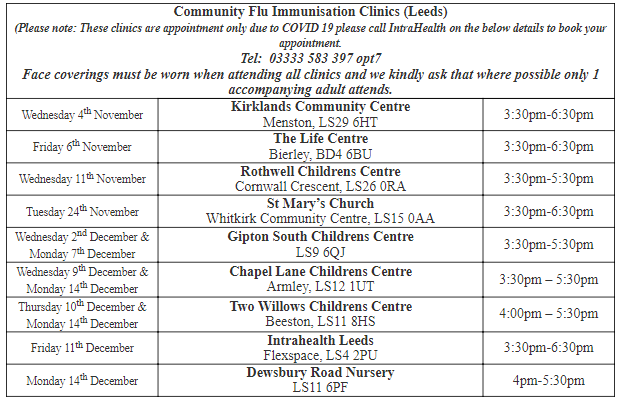 Spellings
Spellings for this week can be found here.
Covid Flow Chart
Unsure whether to send your child to school if they are unwell? This NHS Covid Symptoms Flow Chart should help you make your decision.
Updates to EYFS Curriculum
We are excited to let our parents and carers know that Thorpe is to become an early adoption school for the changes to EYFS framework before the statutory implementation in September 2021. You can find out more information on what this means for you and child here.
School Start and End Times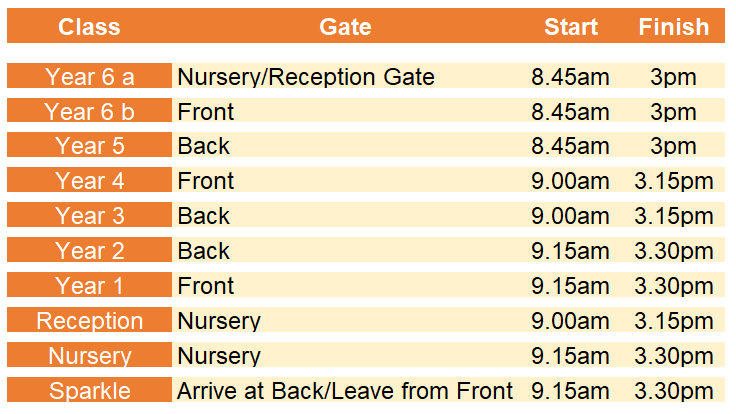 Attendance at school is mandatory from September
Children should return in full school uniform and will need to come in their P.E kit on their designated P.E days (details on class pages). Please click here for information on appropriate P.E kit
No bags, pencil cases or toys should be brought into school, children should only bring their lunch box (if on packed lunches) and water bottle which must go home each day
Bright Stars will reopen on Monday 14th September.
Latest School Events Events
Last Day of Autumn Term

18

Dec

2020
Staff Training Day

04

Jan

2021

@ Whole school

School is closed today to ALL pupils.
Back to School for All Pupils

05

Jan

2021