Reading at Thorpe Primary School
Latest News...
To further support home learning, we have set up an online Reading library called Rising Stars Reading Planet which can be accessed from home.
Teachers have already assigned age appropriate books for your child to access which you will see when they log on using their username and password.
There are also mini quizzes for your child to complete during and after reading the text and we feel this will be a great way to help your child progress with their reading over the summer.
Our Vision
We passionately believe that all children should have the opportunity to enjoy books, irrespective of their ability or background. We believe that reading is a life skill to which everyone is entitled. We believe that all of our children should leave our school having met their potential in reading so they can be successful in their personal and professional lives and engage fully with the world around them. We want to promote a lifelong love of reading and expose them to different text types; those that challenge, interest and inform them. We want all of our pupils to leave school as confident, fluent and expressive readers who can both understand, evaluate and question what they have read. We want our children to be inspired to read, inspired to write and inspired to learn more and we believe that reading provides this vehicle.
Achieving our vision is dependent on high quality teaching and the promotion of reading.
In Nursery
Across school, we use the Letters and Sounds systematic approach to teaching early reading and phonics. The children are introduced to sounds through explicit teaching in Nursery, where phase 1 phonics is accessed throughout the year. When and where appropriate, children are also introduced to phase 2 sounds in some cases. We ensure that our children have access to an engaging reading area and that nursery rhymes and stories are part of the daily routine in Nursery.
In Reception
In Reception, our children are taught phonics daily and also access a guided reading session each day. Floppy Phonics is the main vehicle for the delivery of the phonics sessions, but resources are also used from other Letters and Sounds-based schemes, such as the songs from Jolly Phonics, whose actions and rhymes support children's engagement.
Two sounds per week are taught, using the 4-part structure of review, teach, practise, apply. Letter formation is also taught during this time to support handwriting, and make the teaching more multi-sensory.
In Year 1
Children access daily phonics and guided reading in Year 1. The approach is Letters and Sounds, and similar to Reception, lessons include a variety of resources to support the teaching. Lessons follow the teaching sequence of review, teach, practice, apply, and nonsense and tricky words are also taught each lesson. The class have recently been introduced to mnemonics to support their spelling of tricky words. All children will read with an adult at least once a week and daily "carousel" style reading sessions are delivered every day. In preparation for Year 2, whole class reading is usually introduced later in the year.
In Year 2
Children access daily phonics and whole-class reading in Year 2. Phonics sessions take place at the same time as Year 1 and children are split into groups depending on their phonics ability. Sessions are taught by the class teacher and by a teaching assistant, with some pupils working with the Year 1 teacher to consolidate their knowledge.
Whole class reading sessions take place every day and short texts are read over the course of a week. Texts are fiction and non-fiction to ensure that children access a range of genres and different types of writing. The children are taught and get to practise a wide range of reading skills using VIPERS (Vocabulary, Infer, Predict, Explain, Retrieve, Summarise) and complete comprehension questions each week.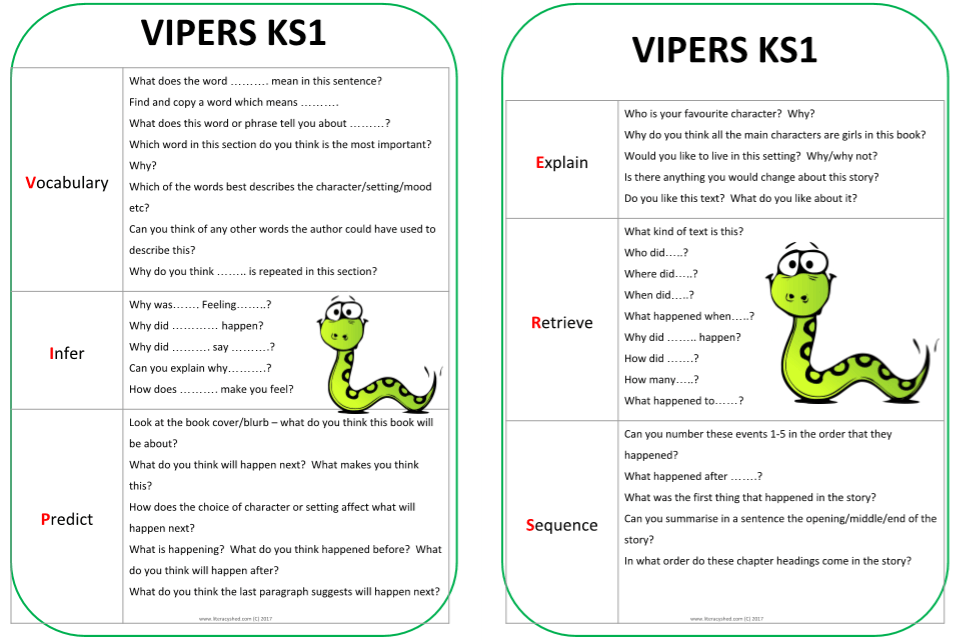 In Key Stage 2
Whole class reading takes place every day across Key Stage 2 with VIPERS as the vehicle to improve children's reading.
To improve our children's stamina for and comprehension of longer texts, we have focused our guided reading around novels this year, although non-fiction texts and extracts are also used in reading sessions.
Vocabulary is a key priority in KS2 and children are encouraged to use dictionaries to develop their knowledge and understanding of unknown words. In addition, Individual Educational Plans are in place to support struggling readers.
Whole school Reading Buddies

Weekly Parent Reader mornings

Extra Curricular Book Club

Regular book fairs, author visits and strong links with the School Library Service

Check out some fantastic images from World Book Day 2020

Little Library in the playground and engaging reading areas in each class

Children are entered into a prize draw to win a half-termly book token every time they finish a book

Teachers and support staff are encouraged to display the names of titles they are currently reading so we can demonstrate reading for pleasure

Whole school story time.
Reading For Pleasure
Looking for book recommendations for children who love a particular author? Click on the images below for similar books.
What are we Reading at the Moment?
Mrs Wilks is reading the Switch by Beth O'Leary because she really enjoyed her previous novel, Flatshare. Click here to see what everyone else is reading.